Products
Rotary Unions
Rotary Timing Valves
Babbitt Bearings
Products
Custom Solutions

We've been providing custom solutions since 1960.
You can say it's what we do best!
SRS specializes in complete custom rotary union, rotary timing valve and Babbitt bearing product design and manufacturing for a wide range of industries.
We've worked closely with our customers to engineer over 1,000 custom designs over the past five decades.
Complete In-house Production Capabilities:
Product Design & Support
FEA Simulation & Verification
Supply Chain Management
Precision CNC Machining
Complete Assembly & Inspection
Standard & Custom Testing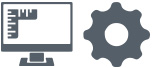 Learn more
Considering a custom solution?

Select from a wide range of seal designs, materials, platings, coatings, electrical slip rings and data transfer devices.


Let's Get Started
Back to Top