Products
Rotary Unions
Rotary Timing Valves
Babbitt Bearings
Products

SRS provides Babbitt bearings designed specifically for your critical rotating equipment.

Babbitt bearings are commonly found in compressors, turbines, pumps, generators, electric motors and other industrial rotating equipment. The bearings are designed to support the weight of the shaft and to maintain its axial position. Components are machined to specific tolerances that allows the shaft to float on a thin layer of oil in between the bearing. This prevents metal-to-metal damage to the high-speed rotating shaft and the bearing.

SRS team members have over 35 years of combined Babbitt bearing design and manufacturing experience. This experience combined with our extensive in-house capabilities allow us to meet customer's application requirements for performance and delivery.
Babbitt Bearings Available
Journal Bearings
Tilting Pad (Ball / Socket & Rocker Back)
Combination
Sleeve Bearings

Fixed Geometry
Combination
Thrust Bearings

Fixed Geometry
Tilting Pad
Self-Equalizing
See Custom Babbitt Bearing Examples


Size Range
Pad Backing Material
Surface Speed
Journal
Tilting Pad (Ball / Socket & Rocker Back)
Up to 8" Bore
Bronze, Copper, Steel
Up to 225 ft/s
Combination
Up to 3.875" Bore
Up to 330 ft/s
Sleeve
Fixed Geometry
Up to 10" Bore
Bronze, Copper, Steel
Per Custom Specification
Combination
Up to 10" Bore
Thrust
Fixed Geometry
Up to 8" Pad OD
Bronze, Copper, Steel
Up to 180 ft/s
Tilting Pad
Self-Equalizing
Up to 15" Pad OD
In-house Static & Centrifugal Babbitt Pouring
Dye-Penetrant Testing
Ultrasonic Testing
Repair of Tilting Pad Journal & Thrust Bearings
Reverse Engineering for Direct Replacements
Engineered to Fit Customer Envelope Requirements and Extreme Operating Conditions
Short Lead Times When Required for Quick-Turnaround Projects
SRS Ball and Socket Tilting Pad Bearings Offer the Tightest Shaft Clearance Range of any Tilting Pad Design
Designed and Manufactured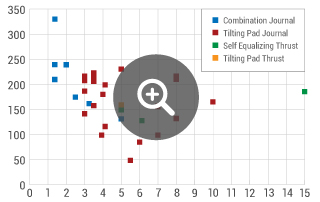 Manufactured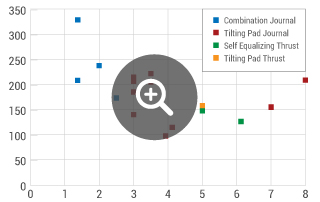 All SRS bearing designs have passed vendor qualification requirements, including design reviews, 3rd-party witness inspections, and dynamic testing performed at customer facilities.

Get a Custom Quote

Back to Top